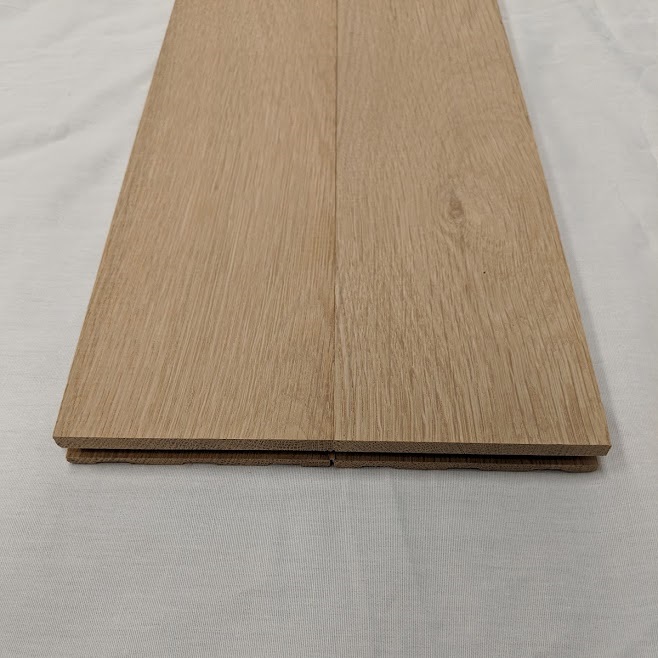 3/8" x 2" Select White Oak Solid Flooring
Price: $
7.59/Square Foot
Item Number: 38WOSEL2
Minimum Order: 4 Bundle(s)
Square Feet Per Bundle(s): 25.00
Coverage Needed:
PRODUCT FEATURES
---
Recommended Waste Factor:
DESCRIPTION
---
3/8" x 2" Select White Oak Solid Flooring with tongue and groove milling. While flooring in this size can sometimes be hard to find, we make it easy, by shipping it direct to your home or business in just a few weeks or less. Made in the USA from genuine American White Oak hardwood.
This item generally ships 1 to 2 weeks after ordering, and delivery takes just a few business days to most destinations.
Please view the accessories below, and add to your cart as needed.
Flooring Adhesives & Underlayments Accessories
Name
Description
Price
QTY
Mapei Ultrabond Eco-995 Hardwood Flooring Adhesive with Moisture Barrier - 5 Gal

As a flagship adhesive for Mapei, Ultrabond ECO 995 is a premium, 100% solids, single-component moisture-curing urethane adhesive. This adhesive can be used for both adhesion and moisture barrier in a single application during installation of hardwood flooring of all kinds. Great for direct glue-down installations of solid and engineered hardwood, or use in glue-assisted installations in conjunction with fasteners over plywood subfloors.

For full technical data sheet, including spread rates, click here.
Flooring Transition Pieces Accessories
| | Name | Description | Price | QTY | |
| --- | --- | --- | --- | --- | --- |
| | Unfinished White Oak Baby Threshold 78" | Our unfinished White Oak Baby Threshold molding is great for trimming the edge of a hardwood floor where it meets up with low pile carpeting, sliding glass door tracks, and a variety of other useful applications. We stock this in our warehouse for next business day shipping, and longer lengths may be available for a small up-charge. | | | |
| | Unfinished White Oak T-Molding 78" | Use this Unfinished White Oak T-Molding to transition from any White Oak flooring to any hard surface flooring of a similar level. Some installers also use T-Molding to transition from hardwood to carpet, which is a matter of preference. | | | |