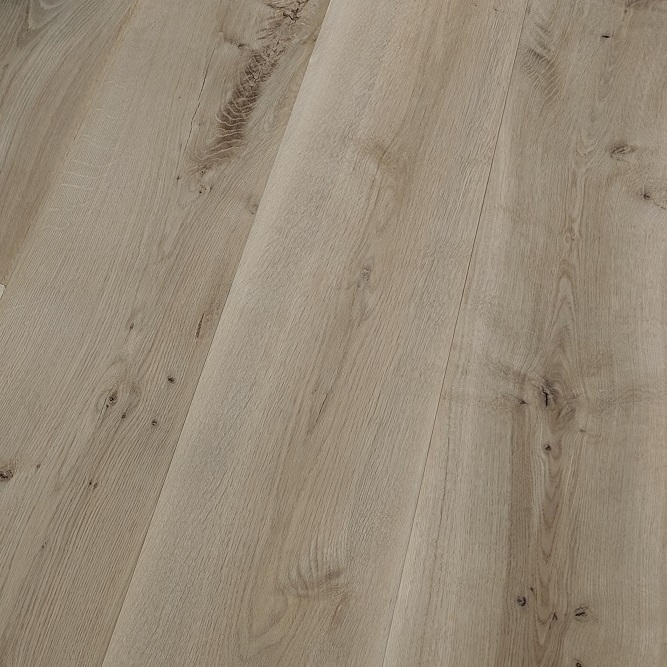 Live Sawn White Oak Unfinished 3/4" Solid Hardwood Flooring
Price: $
6.69/Square Foot
Item Number: LIVEWO
Minimum Order: 15 Bundle(s)
Square Feet Per Bundle(s): 20.00
Coverage Needed:
PRODUCT FEATURES
---
Recommended Waste Factor:
DESCRIPTION
---
This wide plank White Oak flooring is made using an old-world sawing technique whereby each plank is sawn by cutting across the entire diameter of the log. The result is that each plank exhibits unusually vivid grain patterns, generally displaying arching grains in the center, with rift/quartered characteristics towards the edges. Other terms for this type of flooring are european cut, french oak, center cut oak flooring, etc.
Naturally occurring characters such as knots and mineral streaks add charm and interest to this unique flooring.
Each plank is 3/4" thick solid kiln-dried American White Oak live sawn hardwood with relief grooves in the bottom for air-flow and stability after installation. The lengths are completely customize-able so a menu is provided to allow you to choose the lengths that suit your budget and the needs of your project. Longer lengths not only make for a more enjoyable installation experience, but also for a magnificent finished product for the life of the floor.
For installation of planks this wide, nail-down or staple-down is recommended with glue-assist. Depending on a number of factors such as lumber on hand, as well as the lengths that you choose, lead times will range from immediate shipment, to 3 weeks or possibly longer. Just give us a call for a well informed lead time so that you can plan accordingly.
Please view the accessories below, and add to your cart as needed.
Flooring Adhesives & Underlayments Accessories
Name
Description
Price
QTY
Mapei Ultrabond Eco-995 Hardwood Flooring Adhesive with Moisture Barrier - 5 Gal

As a flagship adhesive for Mapei, Ultrabond ECO 995 is a premium, 100% solids, single-component moisture-curing urethane adhesive. This adhesive can be used for both adhesion and moisture barrier in a single application during installation of hardwood flooring of all kinds. Great for direct glue-down installations of solid and engineered hardwood, or use in glue-assisted installations in conjunction with fasteners over plywood subfloors.

For full technical data sheet, including spread rates, click here.
Flooring Transition Pieces Accessories
| | Name | Description | Price | QTY | |
| --- | --- | --- | --- | --- | --- |
| | Unfinished White Oak Baby Threshold 78" | Our unfinished White Oak Baby Threshold molding is great for trimming the edge of a hardwood floor where it meets up with low pile carpeting, sliding glass door tracks, and a variety of other useful applications. We stock this in our warehouse for next business day shipping, and longer lengths may be available for a small up-charge. | | | |
| | Unfinished White Oak T-Molding 78" | Use this Unfinished White Oak T-Molding to transition from any White Oak flooring to any hard surface flooring of a similar level. Some installers also use T-Molding to transition from hardwood to carpet, which is a matter of preference. | | | |
Wood Floor Registers And Vents Accessories
| | Name | Description | Price | QTY | |
| --- | --- | --- | --- | --- | --- |
| | 4 x 10 Red Oak Flush Mount Register with Damper | 4 x 10 Flush Mount Red Oak Floor Register | | | |
| | 4 x 10 White Oak Flush Mount Register with Damper | This 4 x 10 flush mount wood register is Made in America from kiln-dried American White Oak hardwood. The flush design means the register is on the same level as the hardwood floor surface so it doesn't stick up or create a tripping hazard. The included damper allows the user to quickly and easily control the amount of air-flow through the vent. | | | |
| | 4 x 12 White Oak Flush Mount Register with Damper | This 4 x 12 flush mount wood register is Made in America from kiln-dried American White Oak hardwood. The flush design means the register is on the same level as the hardwood floor surface so it doesn't stick up or create a tripping hazard. The included damper allows the user to quickly and easily control the amount of air-flow through the vent. | | | |